Top 5 Male Sex Dolls For Gay Men
After reading my last blog about whether you should buy a gay sex doll, are you looking for a new male sex doll now? Then you're in the right place. Here, we will introduce the top 5 male gay sex dolls from materials, price, and realism for you to pick up a suitable sex doll.
RIDMII Allen 170cm #180 Silicone Head + TPE Body Lifelike Male Adult Sex Doll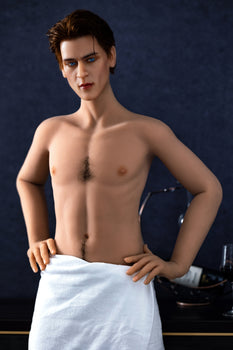 What is your first expression on Allen? Sexy, mature, or charming? This hot male sex doll boasts a harmonious blend of realism and sensuality for sure, catering to the diverse preferences of our valued customers.
With a silicone head and TPE body, Allen offers a lifelike feel that mimics the extremely real texture of human skin. Sexdollpartner is always focusing on details. Look at her chest hair and belly hair, don't they make this male sex doll more realistic and add a touch of masculinity? 
Made of high-quality materials, her huge penis and anal hole are available. Whether you're a top or bottom, this versatile gay sex doll is suitable for you. How much is this male sex doll? Don't worry about the cost, for only 1,499$ USD, you can get this attractive gay sex doll home.
RIDMII Jonathan 167cm #135 Silicone Head TPE Body Realistic Custom Gay Male Sex Doll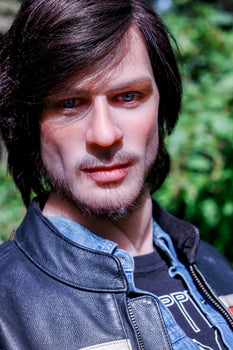 Look at this realistic gay sex doll. Have you fallen in love with him at first glance? His head is crafted with high-quality silicone, so it boasts lifelike implanted hair, a sexy implanted eyebrow, and a hot implanted beard. Plus, his eyeballs can be movable. You can move them based on reality to improve the realism. Who can deny such a handsome man?
His body is crafted with TPE too. As well as simulated human-touch skin, you can have other customization options. For instance, you might choose to add on implanted chest hair, implanted hair, and colors of the skin and so on to enhance the realism of this sexy male sex doll.
 How much will it take to indulge in a visual feast with sculpted abs and pecs that mirror the allure of a sculpted physique? Only 1,499 USD, you can get this top and bottom male sex doll.
RIDMII David 167cm Silicone Head TPE Body Lifelike Full Size Male Sex Doll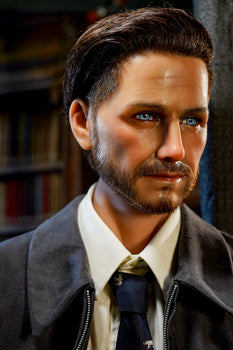 Could you please take a look at David's face carefully? Is this male sex doll the most realistic you have ever met? With meticulous attention to detail, our doll features implanted hair, a tasteful beard, and mature charisma that exudes a Wall Street elite aura. The captivating blue eyes add depth to his allure, drawing you into an intimate experience that's second to none. 
This gay sex doll combines the realism of a silicone head and a TPE body, this creation presents a seamless blend of artistry and technology. High-quality materials make him have the skin of human texture. Plus, all of his joints are articulated, so you can try all your favorite positions with him. Do remember he is versatile, so feel free to explore the ultimate pleasure with him without any judgment and complaints. Just takes 1,499 USD, and you can take this realistic male sex doll home.
RIDMII Albin 167cm Head TPE Strong Dark Tan Athletic Adult Male Love Sex Doll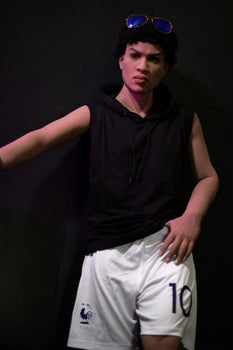 Is your boyfriend strong enough to make your sexual fantasy into reality? If not, come to see our hot-selling sex doll Albin. This adult male sex doll embodies the allure of a seasoned basketball athlete, designed to fulfill your desires for an authentic and intimate experience. Crafted from full TPE material, this doll ensures a lifelike touch and feel that's unparalleled.
His brown skin tone offers warmth and sensuality. By touching his sculpted abs, and pecs, you will understand what "strength" stands for. You will be captivated by his combination of athletic prowess and sensuality.
Shop this brown versatile gay sex doll now, you can explore the intimacy and enjoy the ultimate pleasure. You only need to pay 1,399 USD.
RIDMII Adrian 170cm Head TPE Cheap Young Male Boy Love Sex Doll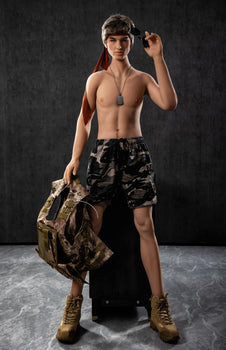 Adrian is different from the male sex dolls we introduced before. With an Asian face, this male sex doll looks like a young bottom boy.
If you're an aggressive top gay, I am sure this lifelike gay sex doll will be your type. This male sex doll features an Asian-inspired face that radiates charm and authenticity, creating a connection that transcends the boundaries of imagination. With a well-defined bottom, this doll is thoughtfully created to fulfill your desires in the most realistic way possible.
Only 999$ USD, you can get this TPE male sex doll with good quality.
In conclusion, at Sexdollpartner, we proudly offer a diverse selection of top-tier gay sex dolls that cater to a range of preferences and desires. Our carefully curated collection encompasses a variety of features, from realistic skin textures and facial expressions to meticulously crafted bodies that mirror the male form in its finest details. Each doll brings a unique blend of charm, sensuality, and authenticity, promising an unforgettable and intimate experience. Whether you seek companionship or exploration, our top 5 gay sex dolls stand as a testament to our commitment to providing the highest quality products that fulfill your desires and fantasies. Discover a new level of connection and satisfaction with our exceptional range of gay sex dolls.
---