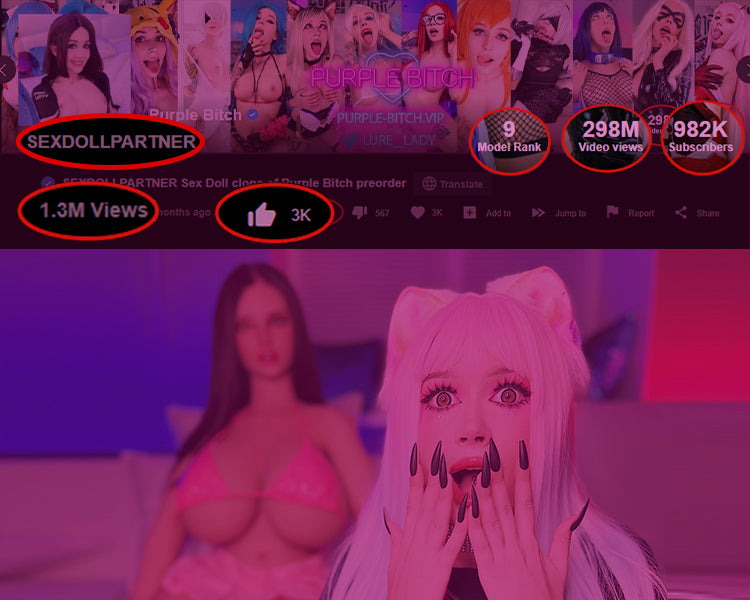 Why Choose SexDollPartner?
SexDollPartner is a well-known supplier based in China that specializes in the production and distribution of adult sex dolls, who are officially authorized by RIDMII to own its Brand, design, and production. The company has been providing legal, high-quality love dolls to customers around the world since its establishment in 2021.
Sexdollpartner is committed to providing you with the highest quality sex dolls and ensuring your satisfaction. We offer a hassle-free 7-day return policy. Our 7 Days Free Return Policy ensures worry-free after-sales service for our customers. If you receive a doll and are unsatisfied or no longer wish to keep it, you can apply for a free return within 7 days of receiving the doll through our website. Once approved, you'll receive a free return label. Buy your dream lifelike sex dolls at SexDollPartner! Click here for more condition about our 7-day return policy.
We are committed to providing high-quality sex dolls with innovative designs and comprehensive features to meet the needs of consumers. So far, we have introduced a variety of features for sex dolls, such as full-body articulated joints for more realistic movements, simulated breathing with lifelike chest heaving, and mouth heating to enhance the most realistic sexual experience for our customers.
SexDollPartner has established overseas warehouses in various locations worldwide, including the United States, the European Union, the United Kingdom, Canada, and so on. We spare no expense in setting up comprehensive supply warehouses overseas to ensure that our international customers can receive their beloved adult love dolls as quickly as possible after placing an order. Furthermore, customers with any doubts about our full-size sex dolls can also visit our warehouses for a more hands-on and in-depth understanding.
Most of our lifelike sex dolls and realistic sex doll torsos are the stock in our overseas warehouses. If you order a doll from our local warehouse, the doll will be delivered to your home free of charge. It usually takes 2-5 business days.
If you are in urgent need of a realistic silicone / TPE sex doll, we also offer next-day delivery services. For a small additional expedited shipping fee, we will promptly ship it to you, once you place an order for our dolls. Typically, you can expect to receive your doll on the second working day.
No matter whose sex doll you want to customize, as long as you have a picture of that person and their permission, we can replicate their appearance one-to-one for you. Among our past customers, some have replicated their beloved wives, while others have replicated real-life celebrities. Who would you most like to replicate?
We have a dedicated customer service team available to assist you. You can reach out to us through our website's live chat, phone, or email. We are here to provide you with all the information from the best hot-selling sex dolls to discount cheap sex dolls. As a consumer, you have the right to fully understand the details of the product before placing an order, so please feel free to ask any questions you may have.
SexDollPartner Unique Sex Doll Advantage - Must Read
Exceptional Supply Chain with Stringent Selection Process
You might be aware that the majority of sex dolls worldwide are manufactured in Zhongshan and Dongguan, China, housing over 50 factories of varying sizes. However, it is crucial to note that the brands we often associate with may not necessarily produce their own love dolls. Those well-versed in the industry understand that during periods of high demand, factory owners do not typically expand their production lines by hiring additional workers. Instead, they often outsource some of their excess orders to sister factories, mitigating the burden of labor costs after peak trading seasons. Consequently, numerous undisclosed factories in China operate behind the scenes, offering brand incubation and original equipment manufacturing (OEM) services.
At SexDollPartner, our team comprises individuals with firsthand experience in both large and small-scale doll factories. We have personally visited a multitude of sex doll factories in the Pearl River Delta region, meticulously evaluating various factors such as the quality of raw materials, cleanliness of production facilities, and the proficiency of makeup artists. Following this comprehensive assessment, we have identified and partnered with the top 5-8 factories, ensuring their exceptional craftsmanship is available to our customers at affordable prices.
By establishing a strict selection process and sourcing from these highly regarded factories, SexDollPartner guarantees the highest quality products for our discerning clientele. We prioritize hygiene, authenticity, and affordability, ensuring that every doll meets our rigorous standards. With us, you can confidently explore the world of sex dolls, knowing that you are choosing from a curated selection of the best sex dolls the industry has to offer.
2. Groundbreaking Affordable Logistics Solutions
At SexDollPartner, we take great pride in the diverse expertise of our team members. Our logistics managers possess over 15 years of experience in the cross-border logistics network industry, enabling us to establish partnerships with leading logistics companies and optimize our resources to secure the most competitive shipping rates. If you've ever purchased a doll priced above $2,000, you're likely familiar with the significant portion of your expenses allocated to shipping costs alone (shipping a 37 kg sex doll can amount to $500 - $700). However, we approach things differently.
From the inception of SexDollPartner, we set out to revolutionize the industry's shipping practices. We pioneered worldwide standard shipping, complemented by an extensive range of local courier services alongside established UPS/FedEx/DHL air freight options. This strategic approach empowers us to offer low-cost or even free shipping to our esteemed customers. In simpler terms, you can allocate nearly all your budget towards acquiring your beloved companion, rather than squandering it on exorbitant cross-border shipping fees.
By prioritizing cost-effective logistics solutions, SexDollPartner ensures that your investment is primarily directed towards your cherished companion. We strive to minimize unnecessary expenses and maximize the value you receive, guaranteeing a seamless and economical shipping experience. Trust us to handle the logistics, allowing you to focus on building an extraordinary connection with your chosen adult doll.
3. Highly Personalized and Customized Services

At SexDollPartner, we believe in love at first sight. While we understand that individualized customization can sometimes be a complex and time-consuming process that requires effective communication, we are dedicated to providing the most extensive range of customization options available, ensuring that you don't have to compromise on creating your perfect partner. As of June 2023, our sex dolls offer over 10 customizable features. Alongside the standard choices of skin tone, eyes, areola color, breast material, bone type, smart heating, and sound systems, we also provide unique mix-and-match services that many other websites shy away from.

Unlike some sex doll retailers who limit your options to the exact face shape, skin tone, and height as displayed in their model photos, we encourage you to raise your preferences with our customer service team. We are committed to offering a comprehensive and personalized selection, allowing you to tailor every aspect of your adult doll to meet your specific desires.

4. Extensive Local Warehouses with 800+ Stocked Inventory

Since February 2022, SexDollPartner has established its own network of local warehouses in the United States, Europe, Canada, and the United Kingdom. These strategically located facilities house over 800 pre-made stock sex dolls, enabling us to facilitate lightning-fast delivery within 2-7 days. While many sellers claim to have warehouses, they often rely on shared storage spaces to reship inferior sex dolls. Unfortunately, these shared warehouses can house dolls that have been stored for extended periods, increasing the likelihood of receiving damaged or subpar products.

However, SexDollPartner distinguishes itself by exclusively selling and storing products from our own website. We take pride in replenishing our warehouse stock regularly to ensure the highest quality and freshest inventory. When you choose our pickup service and visit our warehouse, you'll notice that our premises are solely dedicated to serving our customers. You won't encounter individuals from other sites because our warehouse is truly owned and operated by SexDollPartner.